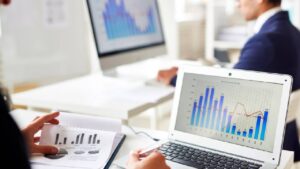 Let's start with the most important question – what is a Forex demonstration account, or demo account in short? A Forex demo account is a trading account that corresponds with the real Forex account with the difference that the funds on it are virtual. Therefore, trading on a Forex demo account does not involve the risk of losing any money. Instead, you are able to check how to operate the trading platform, how orders are executed, what are the deposits required to trade on specific instruments, and so on.
Thanks to a Forex demo account you can check everything your broker offers you without risking anything. This allows you to compare the offers and platforms of many brokers, so you can choose the best Forex platform. This is a great advantage of the Forex market as you can try out platforms of almost all brokers to choose the one that suits you the most. For example, the availability of stock trading or futures trading demo platforms is much more limited.
So, is it worth trying out a Forex demo account? Definitely yes! It is hard to imagine any trader starting his Forex journey without a demo trading platform. Without it, it would be impossible to take successful first steps in Forex trading. Whether you want to trade currencies, indices or CFDs (Contract for Difference) on stocks, you absolutely must start by testing and trying out the demo account. Otherwise, your trading career will end quickly and very painfully. And you certainly don't want to do that.
Forex Demo Account – Advantaged
It is difficult to list all the advantages of a Forex demo account. First of all, a demo account allows you to familiarise yourself with the trading platform. As you plan to use the trading platform in order to trade on the real market, where you risk your hard-earned money, you'd better learn the platform well. There are many trading platforms available on the market so choose wisely.
What counts in real market trading is the reaction time, and the reaction time depends on the comfort of using the platform and its functionalities. For this reason, choose the Forex trading platform that suits you best and works fast, and then carefully learn how to use it. Take into account even the smallest details as in the real trading these details can be what gives you an advantage over the rest of the market participants.
The second thing you need to learn with a free Forex demo account is the use of indicators, oscillators and other tools available on the platform. This will allow you to master technical analysis, which is essential for Forex trading and other derivatives as well. By default, there are dozens of technical analysis tools available on the Forex trading platforms – starting from the simple ones to advanced investment arsenals. What's more, you can download additional tools for most trading platforms for free.
The third, very important issue, which is a huge argument for using the Forex demo trading platform, is the opportunity to test your strategies. Under no circumstances can you use the trading strategy on a real account before you have thoroughly tested it yourself on a demo account. This is the key to success in Forex, stock, commodities and absolutely every other market. Countless trading systems can be found online, but their real market profitability often leaves much to be desired.
Test your strategy on a Demo Account
This is a very important issue concerning trading on a Forex demo account. Using a demo account is not meant to be art for art – it has to take to real market trading. Once you have learned how to use the trading platform, indicators and tools the platform offers, you can begin to develop and test your strategies.
How long should I test my strategy before I can use it on a real account? You should test your strategies as long as they prove to be profitable. And it's absolutely not about the first profitable transaction that you close. It is about regular profits from tens or hundreds of transactions (depending on whether it is a long-term or short-term strategy) over days and weeks. If the given strategy doesn't work you just throw it in the trash, forget about it and start testing another strategy. It is surely a labour-intensive activity but no-one said that Forex trading is easy. It requires a lot of work and efforts but those who are the most persistent are rewarded by the Forex market.
Additional Benefits of a Demo Account
What are the other benefits of a Forex demo account? Markets are constantly changing. It means that once you have developed an investment strategy it won't be yielding extraordinary results forever. And then what? Return to a demo account. When the trading strategy that has worked before ceases to bring expected returns you're gonna be forced to improve or modify it or simply replace it with a new idea.
This means that the demo account is not just for beginner traders. Experienced traders are also using it on a daily basis. As the Forex market offers you almost endless trading opportunities, you can trade the already tested strategy on a real account and also test further strategies on a demo account.